S Venetian Symphony KUOLLUT 29.12.2010
::
 S Venetian Symphony aka
Symppis
::
 american saddlebred, tamma
::
 mustankirjava, 161cm
::
 VH-58793
::
 s. 5.12.2008,
, VHKR
::
 askellajipainotus
::
 ei meriittejä
Omistaja . Kasvattanut
Tämä on virtuaalihevonen / This is a sim-game horse
Kuvagalleria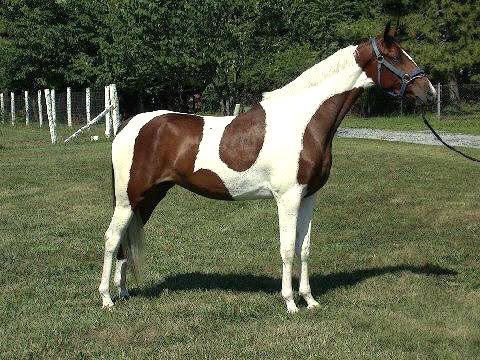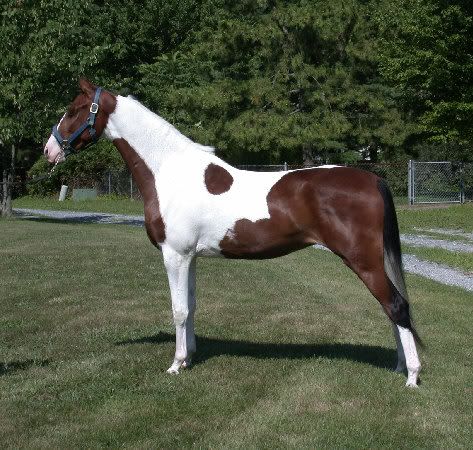 © Just The Right Horse - The horse in the picture has nothing to do with the information on this page.
Luonnekuvaus
S Venetian Lace, lempinimeltään Symppis, on taas näitä "nimensä veroinen" -hevosia. Tamma nimittäin on varsin sympaattinen, eikä siitä oikeastaan voi olla pitämättä edes vähän.
Hoidettaessa Symppis on oikein mukava. Se on vuoden- tai vuorokaudenajasta riippumatta aina pirteä eikä anna oikein minkään lannistaa itseään. Niinpä se levittää myös ympärilleen energiaa ollessaan aina valmis touhuamaan. Symppis on hyvin helppo harjata ja satuloida, mutta se vierastaa harvemmin tehtäviä operaatioita eli kengitystä, eläinlääkäriä ja hampaiden raspausta.
Ratsuna Symppis on samanlainen kuin muutenkin, aina energinen ja valmis tekemään ratsastajan puolesta vaikka mitä. Niinpä tammalla on todella mukava ratsastaa, niin todellista hikitreeniä kuin rentoja maastolenkkejäkin. Symppiksellä on matkaavoittavat, korkeat ja ratsastajalle mukavat askeleet, joiden käytössä se ei todellakaan kursaile. Niinpä onkin hauska nähdä kuinka tammalla vaikka sänkipellon reunaakin mennessä jalka nousee kuin oltaisiin kilpailuissa.
Suku
i Mozarts Bliss (USA)
ii Phi Slama Jama evm
iii The Karankawa Chief evm
iie Wild And Lovely PH evm
ie Our Wild Thing evm
iei Abacus Rambler evm
iee Bold Chiquita evm
e Venetian Lace (USA)
ei Bold Dakota evm
eii Bold Alvin evm
eie Lynara Nightshade evm
ee Elegant Lace evm
eei Creations Supremium evm
eee Americas Elegant Choice evm
Symppis on ostettu Amerikkalaiselta virtuaalitallilta Southern Acres Incistä, joten sen sukukin on ulkomaista.
Isä,
Mozarts Bliss
on komea saddlebredori, joka asuu Southern Acresissa. Se on väriltään ruunikko tobianokirjava kuten tyttärensäkin. Mozarts Bliss on paljon käytetty siitosori, ja ennen Venetian Symphonyä se on saanut yhteensä kolme varsaa ja Symphonyn jälkeen vielä yhden. Mozarts Bliss on painottunut halteriin, jossa se on kilpaillut todella aktiivisesti ja menestyksekkäästikin.
Emä,
Venetian Lace
Mozarts Blissin tapaan Southern Acresin hevonen. Väriltään Venetian Lace on musta tobianokirjava. Venetian Lacella on kaksi varsaa, Venetian Symphony sekä tämän puolisisar S Deathly Lace. Tamma kilpailee askellajeissa sekä show-valjakkoajossa, joissa se onkin ansainnut yli miljoonan voittosumman.
Jälkeläiset
S Venetian Symphony on tarjolla puhtaiden saddlebredien sekä risteytysten jalostukseen. Tähän mennessä orille on syntynyt
3
jälkeläistä.
gg-o.
Tijuana's Masterpiece
sdb-o.
Tijuana's Juvenile Symphony
sdb-t.
Tijuana's Perfect Crime
Kalenteri
S Venetian Symphony kilpailee aktiivisesti ARJ:n alaisissa kilpailuissa. Tamma on kilpaillut aiemmin myös ulkomaisissa kilpailuissa. Kalenteriin merkitään ainoastaan sijoitukset.
ARJ -
kutsu
- 12.3.09 - rack -
5 / 29
ARJ -
Kutsu
- 29.3.2009 - slow gait -
2 / 20
ARJ -
Kutsu
- 1.4.2009 - rack -
4 / 21
ARJ -
Kutsu
- 3.4.2009 - 4-käynti -
1 / 24
ARJ -
Kutsu
- 8.7.2009 - Slow Gait -
3 / 16
ARJ -
Kutsu
- 20.7.2009 - slow gait -
6 / 38
ARJ -
Kutsu
- 20.7.2009 - rack -
5 / 38
ARJ -
kutsu
- 25.8.2009 - 4-käynti -
3 / 42
ARJ -
kutsu
- 28.8.2009 - 5-käynti -
2 / 43
ARJ -
Kutsu
- 26.9.2009 - 5-käynti -
2 / 30
ARJ -
Kutsu
- 16.9.2009 - 5-käynti -
2 / 30
ARJ -
Kutsu
- 24.9.2009 - 5-käynti -
5 / 30
ARJ -
Kutsu
- 3.10.2009 - 5-käynti -
1 / 32
ARJ -
Kutsu
- 30.10.2009 - 5-käynti -
3 / 29
ARJ -
Kutsu
- 5.11.2009 - 5-käynti -
3 / 29
ARJ -
Kutsu
- 7.11.2009 - 5-käynti -
4 / 29
ARJ -
Kutsu
- 12.11.2009 - 5-käynti -
2 / 29
ARJ -
Kutsu
- 15.11.2009 - 5-käynti -
2 / 29
ARJ -
Kutsu
- 17.11.2009 - 4-käynti -
4 / 29
SAI Points:106
Earnings:$1,253,500.00
SAI's Listen To Me Color Halter Show
37th in Bay/Brown
8th in Tobiano
SAI's Homebred Halter Show XIV
3rd in Gaited Breeds
Champion 2 - 3YOs
2nd in Bay/Brown
Champion Paint Markings
ResChampion Fillies
SAI's Long Distance Call Age/Gender Halter Show
1st in 2YO Mares
SAI's Round Of Applause Lunge Line Show
2nd in 2YO Lunge Line English Horse
SAI's $100,000 Prospect Challenge XXIII
ResChampion English Pleasure Prospect
2nd in Pleasure Driving Prospect
SAI's Lazy Day Driving Show
1st in Prospect
SAI's Jazz Music Prospect Show
ResChampion English Pleasure Prospect
SAI's La La La Gaited Halter Show
ResChampion Fillies
Champion Weanlings
3rd in Bay
1st in Tobiano
SAI's Attention To Details Driving Show
6th in Prospect
SAI's $100,000 Prospect Challenge XXIV
ResChampion English Pleasure Prospect
2nd in Pleasure Driving Prospect
SAI's Your It Prospect Show
3rd in English Pleasure Prospect
SAI's Homebred Halter Show II
ResChampion Gaited Breeds
Champion Weanlings & Yearlings
2nd in Bay/Brown
Champion Paint Markings
2nd in Fillies
SAI's Safe Cracking Gaited Halter Show
Champion Fillies
Champion Weanlings
1st in Bay
Champion Tobiano
WL In-hand Show II
1st in Gaited Halter
Champion Gaited Halter
WL Pleasure Show II
4th in Pleasure Prospect
WL Pleasure Show III
6th in Pleasure Prospect
WL In-hand Show III
6th in Gaited Halter
SAI's Payoff Information Driving Show
10th in Prospect
SAI's $100,000 Prospect Challenge XXV
ResChampion English Pleasure Prospect Challenge
Champion Pleasure Driving Prospect Challenge
SAI's Whacked Out Prospect Show
ResChampion English Pleasure Prospect
SAI's Talk Show Host Gaited Halter Show
ResChampion Fillies
Champion Weanlings
Champion Bay
ResChampion Tobiano
WL Grand Competition I
2nd in Gaited Halter
SAI's $100,000 Prospect Challenge XXVI
Champion English Pleasure Prospect Challenge
3rd in Pleasure Driving Prospect Challenge
SAI's So Over It Driving Show
2nd in Prospect
SAI's Sticky Mud Prospect Show
Champion English Pleasure Prospect
SAI's Up N' At Em Gaited Halter Show
12th in Fillies
6th in Weanlings
7th in Bay
ResChampion Tobiano
SAI's Homebred Halter Show III
2nd in Gaited Horses
4th in Weanlings/Yearlings
3rd in Bay/Brown
8th in Paint Markings
3rd in Fillies
SAI's Movin Out Driving Show
3rd in Prospect
SAI's $100,000 Prospect Challenge XXVI
1st in English Pleasure Prospect Challenge
1st in Pleasure Driving Prospect Challenge
SAI's Dog Pile Prospect Show
ResChampion English Pleasure Prospect
SAI's Countdown Begins Gaited Halter Show
11th in Fillies
3rd in Weanlings
3rd in Bay
1st in Tobiano
SAI's Homebred Halter Show V
Champion Gaited Breeds
9th in Weanlings/Yearlings
3rd in Bay/Brown
7th in Paint Markings
8th in Fillies
SAI's Cheap Dealings Driving Show
11th in Prospect
SAI's $100,000 Prospect Challenge XXV
ResChampion English Pleasure Prospect Challenge
Champion Pleasure Driving Prospect Challenge
SAI's Dont' Want Him To Go Prospect Show
ResChampion English Pleasure Prospect
SAI's Homebred Halter Show IV
2nd in Gaited Breeds
Champion Weanlings/Yearlings
8th in Bay/Brown
8th in Paint Markings
4th in Fillies
SAI's Wish It Was Longer Gaited Halter Show
3rd in Fillies
3rd in Weanlings
4th in Bay
Champion Tobiano
$100,000 Prospect Challenge I
ResChampion English Pleasure Prospect Challenge
3rd in Pleasure Driving Prospect Challenge
BInc. Ritzy Prospect Show
6th in Driving Prospect
2nd in Gaited Prospect
SAI's $100,000 Prospect Challenge XXIX
5th in English Pleasure Challenge
2nd in Pleasure Driving Challenge
SAI's Feelin Lucky Driving Show
7th in Prospect
SAI's Class Act Prospect Show
6th in English Pleasure Prospect
SAI's One Week Left Gaited Halter Show
3rd in Fillies
2nd in Weanlings
6th in Bay
2nd in Tobiano
SAI's Homebred Halter Show VII
1st in Gaited Breeds
2nd in Weanlings/Yearlings
3rd in Bay/Brown
5th in Paint Markings
ResChampion Fillies
SAI's $100,000 Prospect Challenge XXVIII
3rd in English Pleasure Prospect Challenge
9th in Pleasure Driving Prospect Challenge
SAI's Deployment Dates Suck Driving Show
Champion Prospect
SAI's Superstars Prospect Show
4th in English Pleasure Prospect
SAI's Homebred Halter Show VI
1st in Gaited Breeds
7th in Weanlings/Yearlings
Champion Bay/Brown
2nd in Paint Markings
ResChampion Fillies
SAI's Pure Perfection Gaited Halter Show
14th in Fillies
4th in Weanlings
6th in Bay
3rd in Tobiano
SAI's Zombie Driving Show
1st in Prospect
SAI's $100,000 Prospect Challenge XXXI
ResChampion English Pleasure Prospect Challenge
ResChampion Pleasure Driving Prospect Challenge
SAI's Full Moon Prospect Show
1st in English Pleasure Prospect
SAI's Homebred Halter Show IX
ResChampion Gaited Breeds
3rd in Weanlings/Yearlings
7th in Bay/Brown
8th in Paint Markings
3rd in Fillies
SAI's Happy Halloween Gaited Halter Show
8th in Fillies
Champion Yearlings
ResChampion Bay
4th in Tobiano
SAI's With Love Driving Show
23rd in Prospect
SAI's $100,000 Prospect Challenge XXX
ResChampion English Pleasure Prospect Challenge
6th in Pleasure Driving Prospect Challenge
SAI's Dog Tags Prospect Show
ResChampion English Pleasure Prospect
SAI's Webcams Gaited Halter Show
8th in Fillies
Champion Yearlings
2nd in Bay
3rd in Tobiano
SAI's Homebred Halter Show VIII
Champion Gaited Breeds
1st in Weanlings/Yearlings
ResChampion Bay/Brown
5th in Paint Markings
ResChampion Fillies
GS Star Streamer Prospect Show
2nd in English Pleasure Prospect
SAI's $100,000 Prospect Challenge XXXIII
Champion English Pleasure Prospect Challenge
4th in Pleasure Driving Prospect Challenge
SAI's The Jungle Book Driving Show
1st in Prospect
SAI's Princess Diaries Prospect Show
ResChampion English Pleasure Prospect
SAI's Homebred Halter Show XI
Champion Gaited Breeds
6th in Weanlings/Yearlings
4th in Bay/Brown
ResChampion Paint Markings
3rd in Fillies
SAI's Ratatouille Gaited Halter Show
7th in Fillies
Champion Yearlings
8th in Bay
5th in Tobiano
SAI's Hidden Excitement Driving Show
Champion Prospect
SAI's $100,000 Prospect Challenge XXXII
ResChampion English Pleasure Prospect Challenge
2nd in Pleasure Driving Prospect Challenge
SAI's Na Na Na Prospect Show
5th in English Pleasure Prospect
SAI's Homebred Halter Show X
Champion Gaited Breeds
5th in Weanlings/Yearlings
Champion Bay/Brown
3rd in Paint Markings
Champion Fillies
SAI's 1 Month Down Gaited Halter Show
12th in Fillies
2nd in Yearlings
Champion Bay
Champion Tobiano
GS Sea Breeze Prospect Show
2nd in English Pleasure Prospect
GS Star Streamer Prospect Show
2nd in English Pleasure Prospect
BInc. New Years Ground Show
10th in Pleasure Driving Prospect
3rd in Gaited Prospect
4th in Two Year Old Lunge Line English Horse
GS Vegas Wedding Halter Show
1st in 2 - 3YOs
GS Bottle Brush Prospect Show
2nd in English Pleasure Prospect
6th in Driving Prospect
GS Darklight Prospect Show
5th in English Pleasure Prospect
SAI's Moving Mountains Driving Show
13th in Prospect
SAI's $100,000 Prospect Challenge XXXV
ResChampion English Pleasure Prospect Challenge
3rd in Pleasure Driving Prospect Challenge
SAI's Keeping Resolutions Prospect Show
5th in English Pleasure Prospect
SAI's Welcome 2009 Breed Halter Show
1st in Saddlebreds
SAI's 3 Months Down Age/Gender Halter Show
5th in 2YO Mares
SAI's New Years Resolution Lunge Line Show
ResChampion 2YO Lunge Line English Horse
SAI's Homebred Halter Show XIII
Champion Gaited Breeds
Champion 2 - 3YOs
6th in Bay/Brown
Champion Paint Markings
11th in Fillies
SAI's 9 Months To Go Color Halter Show
1st in Bay/Brown
4th in Tobiano
SAI's $100,000 Prospect Challenge XXXIV
Champion English Pleasure Prospect Challenge
5th in Pleasure Driving Prospect Challenge
SAI's Christmas For Cowboys Driving Show
3rd in Prospect
SAI's The Twelve Days Of Christmas Prospect Show
Champion English Pleasure Prospect
SAI's Homebred Halter Show XII
1st in Gaited Breeds
6th in Weanlings/Yearlings
Champion Bay/Brown
Champion Paint Markings
5th in Fillies
SAI's Joy To The World Gaited Halter Show
5th in Fillies
ResChampion Yearlings
4th in Bay
Champion Tobiano
GS Total Fire Ban Prospect Show
3rd in English Pleasure Prospect
3rd in Driving Prospect
SAI's Sneaking Out Driving Show
9th in Prospect
SAI's $100,000 Prospect Challenge XXXVI
ResChampion English Pleasure Prospect Challenge
3rd in Pleasure Driving Prospect Challenge
SAI's Boogey Down Prospect Show
1st in English Pleasure Prospect
SAI's Super Bowl Party Breed Halter Show
2nd in Saddlebreds