Tharia BRA VH15-099-0009
Image and basic information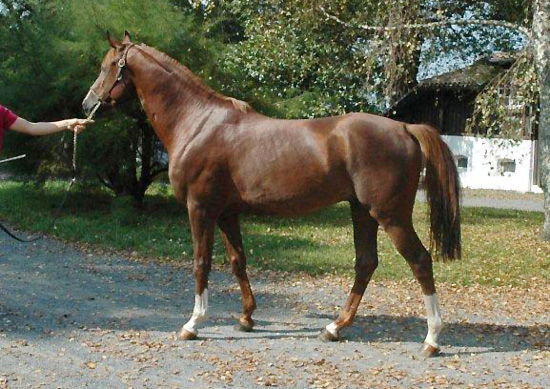 © family Valerio
Virtuaalihevonen / SIM-game horse
Name: Tharia BRA VH15-099-0009
Gender: mare
Breed: Shagya Arabian
Date of birth: 30.03.2015 (VHKR)
Color: chestnut
Height at withers: 150 cm
Owner: Ionic / S VRL-00329
Breeder: Branwen / HM (VRL-00096)
The foal was reserved before it was born
Discipline: endurance
Level:
Information in Finnish for VRL register
Syntymäaika: 30.03.2015
Sukupuoli: tamma
Rotu: shagya
Omistaja: Sirpa VRL-00329
Temperament and behavior
Tharia came to Ionic with Yasit BRA, another Shagya mare from Branwen Farm. We haven't had Shagyas for a long time, except for our stallion Lukacs KTN. Branwen had 2 mares for sale and I thought "Why not?". Tharia is a lovely and sweet-tempered mare, it behaves well in all situations and, all in all, is very friendly for everyone. Its main discipline is endurance, its both parents are endurance horses but it can handle basically everything: dressage, jumping, crosscountry, even carriage driving.
Foals
Shows and results
Date
Discipline
Class
Organizer
Result
22.5.21
VMRJ
80 km, nopeus
Yorca
12/16, 1 p
8.5.21
VMRJ
80 km, ihanne
Yorca
15/15, 1 p
31.3.21
KERJ Cup
CIC1
Haltiasalo
2/67
31.3.21
VMRJ Cup
145 km, nopeus
Crampton
10/12, 2 p
6.3.21
VMRJ
80 km, nopeus
Yorca
11/20, 1 p
23.2.21
VMRJ
80 km, nopeus
Crampton
5/15, 6 p
13.2.21
VMRJ
120 km, ihanneaika
Yorca
16/25, 1 p
12.12.20
VMRJ
30 km, nopeus
Yorca
15/26, 1 p
9.12.20
KERJ
Helppo (heB - 90 cm - 95 cm)
Nessinjärvi
5/32
30.11.20
VMRJ Cup
80 km, nopeus
Crampton
10/24, 2p
20.10.20
VMRJ
50 km ihanneaika
Ionic
3/14, 8p
11.10.20
VMRJ
160 km, ihanneaika
Sîr Angren
14/14, 1p
8.2.16
Show jumping (ERJ)
100 cm
Marrasvaara
-
9.2.16
Show jumping (ERJ)
100 cm
Marrasvaara
-
10.2.16
Show jumping (ERJ)
100 cm
Marrasvaara
-
11.2.16
Show jumping (ERJ)
100 cm
Marrasvaara
-
12.2.16
Show jumping (ERJ)
100 cm
Marrasvaara
-
13.2.16
Show jumping (ERJ)
100 cm
Marrasvaara
-
14.2.16
Show jumping (ERJ)
100 cm
Marrasvaara
-
28.2.2017
VSN
Shagya-tammat
Ionic
3/4
3,5+3,5+3,5+3+3,5+3+3,5+3,5+3+3=33p
Pedigree
Tarek F
151 cm, ch
Tumar F EVM
Basmira EVM
Thaliba
149 cm, ch
Peduil IV EVM
Tihanna EVM